Class AB superb sound quality

No switching noise as class D / T amplifier

Tolerates large ranges of speaker's impedance

2 x 35W adequate output power (@19V dc)

No needs for output filters to ensure pure sound
Silicon Force SK-240B mini amplifier
Great amplifier in music box size



EPCOS MKP high
quality capacitor

Panasonic FM / FR series
105ºC electrolytic capacitor

High quality ALPS
volume control
        We are proud to announce that our newly design product, SK‑240B mini power amplifier, is available now with affortable price.
        SK‑240B is a compact, light weight and high performance audio power amplifier which can deliver up to 40W RMS power per channel into 4Ω speakers when using a 20V external power supply unit.
        The ultimate sound quality of SK‑240B is achieved by precise circuit design and cutting edge circuit board topology. Packing with our high quality audio components SK‑240B gives you highest fidelity comparable to industrial setups.
        The amplifier is optimized to use switching power supply for the best effect. A notebook computer power supply unit is a commonly available well suited choice for this purpose. An accurately calculated filtering circuit and a pair of huge capacity reserviors ensure the purity of the power source. This helps to produce a water clear sound quality.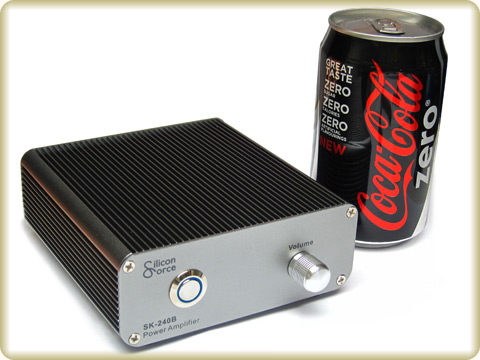 Compact size
Specification:
18W RMS into 8Ω
35W RMS into 4Ω

200µV (unweighted, input terminal shorted)

120mm x 155mm x 50mm (W x D x H)